Restaurant Perkūno namai
Address:
Perkūno al. 61, Kaunas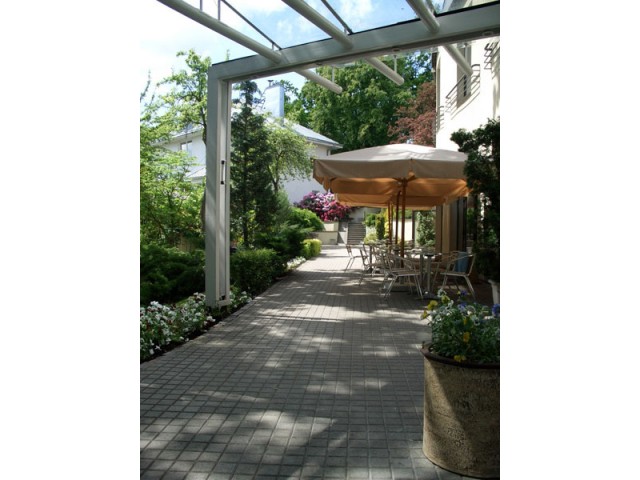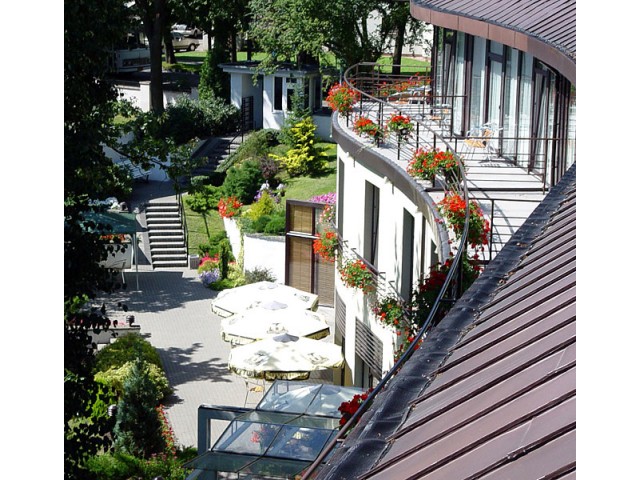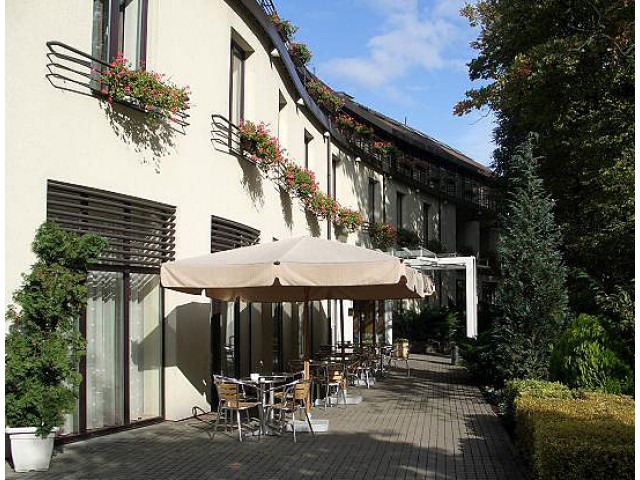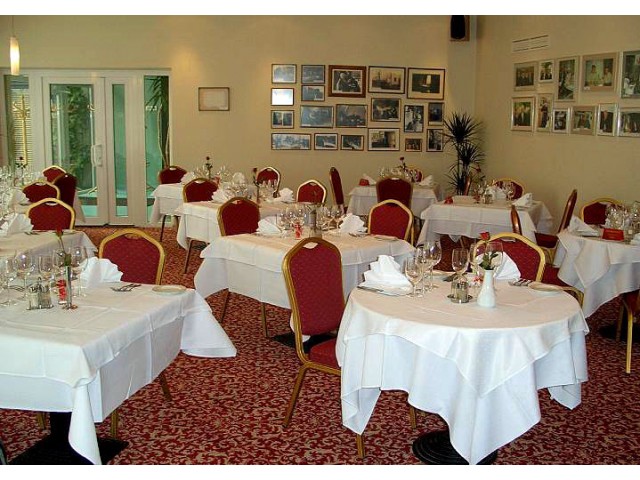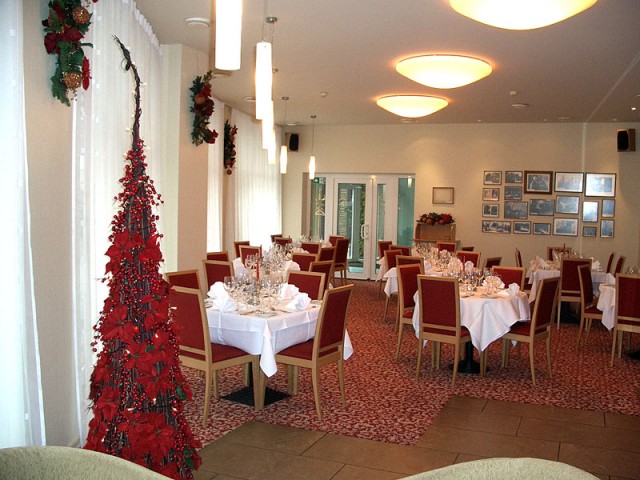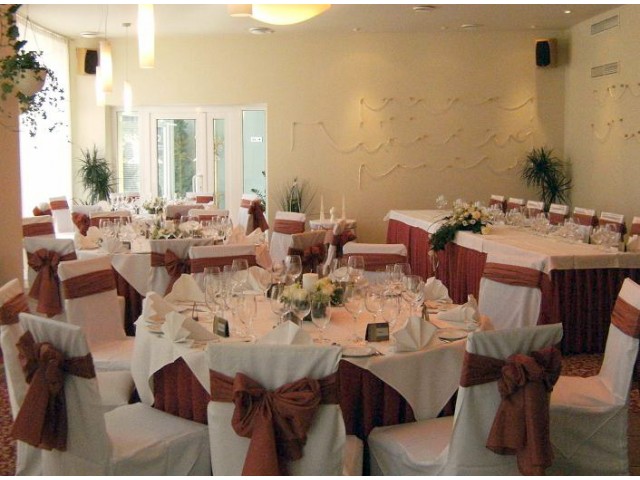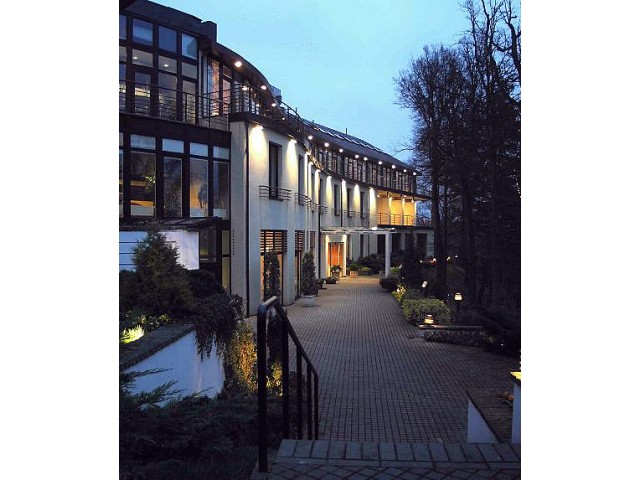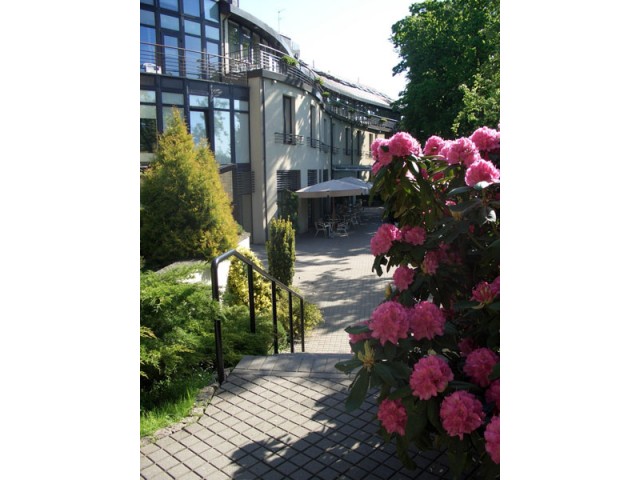 Cosy atmosphere of the restaurant overlooking a blooming valley with centennial oak-trees provides a perfect location for gala parties, business dinners, guest receptions or merry gatherings of friends and colleagues. Our dining facilities include a 50-seat restaurant hall and a 20-seat library hall.
The menu in the hotel restaurant is really fanciful. It is renewed twice a year to give you a chance to taste new gourmet dishes during your next visit. All dishes are exceptional: they are prepared and served as pieces of art. The restaurant owner Ingrida Gustienė creates new recipes and tastes the dishes with professional knowledge and deep appreciation for the sensuousness of good food - the quality, the colour, aroma, texture and harmony.
Every morning guests are welcome to a traditional English breakfast. For lunch and dinner guests may choose international and Lithuanian cuisine dishes a la carte.
Very busy people, who need a short break from their routine errands, will enjoy special offers of the restaurant's chef (table d'hôte) at a very attractive price every weekday and at weekends!
The most popular dishes among our guests in 2009: home cognac-soused salmon served with three lily marmalade, pepper steak a la Perkūno Namai, French egg and cream custard Creme brulee.
Our service philosophy is based on sincere personal attention and elating the customer. We want every guest to feel at home, offering familiarity within the limits and always friendly companionship. Some guests have their favourite waiters and ask to be attended by them.
Friday clubs in the restaurant featuring meetings with interesting people and celebrities, wine and food tasting, theme nights, gala events and banquet catering have captured the hearts of many guests and our regular clients.
What makes our restaurant attractive?
Arranging and serving banquets and buffet style parties in Perkūno Namai Restaurant (up to 70 guests) or another setting of your choice;
Culinary and pastry dishes prepared to order and delivered to your home;
Arranging and serving theme events;
Special menu and restaurant setting for every holiday.
Parties and banquets catering Note: special accommodation discount is offered to guests of parties held in our restaurant.
Cuisine: European, International, Lithuanian
Type: outgoing services, banquets, breakfast, gourmet, white tablecloth,Catering, Food Delivery, Vegetarian, conferences, corporate parties, business lunches, business meetings, VIP rooms, children's festivals, quietevenings, weddings, parties with friends, live music, a romantic evening,sports fans
Restaurant class top-class restaurant
The most famous clients: Sofia Rotaru, Nikolay Baskov, Laima Vaikulis,Singer VITAS, the British rock band Slade, Tau Ceramica basketball team
Specialty: Pepper steak
Average main course price: 24 Lt
What languages ​​menu: English and Lithuanian
Children's menu: Yes
Vegetarian menu: Yes
Breakfast opening hours: 07:00 to 10:30 hours.
Awards: 1998 Vilnius, the senior chefs were awarded the GRAND PRIX in the second Lithuanian cooks, bartenders and waiters in the championship.1999 and 2001 Our restaurant has been recognized as the best in Lithuania.2005 International Kremlin Culinary Cup chief cook Jill Galubavičienė were awarded silver and bronze medals.
Facilities for the disabled: Yes
WiFi: Yes
Tables outside in summer: Yes, 8
Tables: 10
Number of seats: 40
Banquet size to: 50
Payment Cards: Visa, Master Card, Maestro, American Express
Working hours on weekdays: 12.00 - 24.00 hrs.
Opening hours weekends: 12.00 - 24.00 hrs.
City: Kaunas
Address: Thunderer al. 61
Parking: Free
Phone number: +370 37 320230
E-mail: info@perkuno-namai.lt
Internet Address: www.perkuno-namai.lt
Hotel Restaurant: Thunderer house
Reviews
Write a review
Your Name:
Your Review:
Note: HTML is not translated!
Rating:
Bad
Good
Enter the code in the box below: