St. Michael the Archangel Church
Address:
Nepriklausomybės a. 14; Kaunas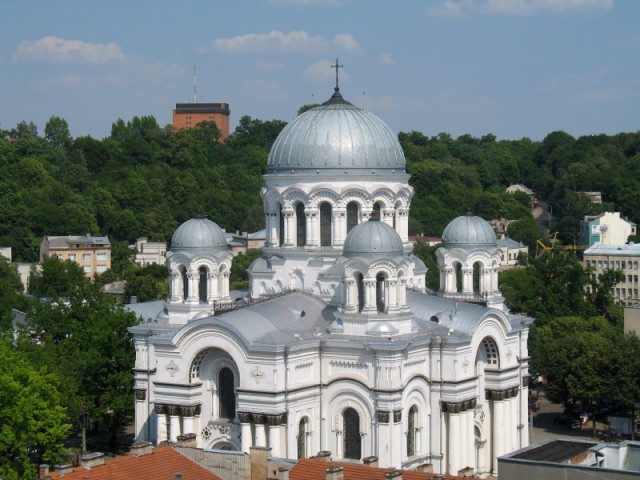 Construction of "military" or "garrison" Orthodox churches in former partitioned Polish–Lithuanian Commonwealth lands, started after the putting down of the January Uprising of 1831 and peaked during the reign of Alexander II. Initially the site of the future Kaunas St. Michael the Archangel Church was intended to be used for a Catholic church, however these plans were abandoned due to the Uprising.
The Russian Orthodox Cathedral of Saints Peter and Paul was designed in 1890 by K. H. Lymarenko; it was authorized for construction on November 10 of the same year. Official groundbreaking was celebrated on June 29, 1891.[2] Later, the initial Lymarenko plan was adjusted by David Grimm from St. Petersburg.[1] The church's ornamentation plan was outlined by Griaznov and implemented by craftsman from Vilnius.[1] Most of the construction was carried out by workers from Chernigov Governorate, while the art work was implemented by craftsmen from St. Petersburg.
As usual for military churches of the period, the construction of Kaunas Cathedral was co-financed by the Military Ministry and donations by army servicemen, in nearly even shares. The Cathedral was completed in four years (unusually fast for its size) and inaugurated on September 17, 1895. Completion of the church finalized the administrative building complex of the Kaunas Fortress and symbolized the might and triumph of Orthodoxy. It was also believed that the church would reduce interdenominational frictions.
After the fall of the Kaunas Fortress during World War I, the Germans cut down the church bells and transported them to Germany. The church stayed closed until 1919.[1] In the interwar period the Cathedral was converted to a Roman Catholic church of the Lithuanian garrison of Kaunas. There were voices urging the demolition of the church as it was labeled as without architectural value. During the Soviet occupation, it was used as an art gallery and nowadays it serves as a Roman Catholic church. The other popular name of the church is Soboras.
Reviews
Write a review
Your Name:
Your Review:
Note: HTML is not translated!
Rating:
Bad
Good
Enter the code in the box below: