Hotel Perkuno namai
Address:
Perkūno al. 61, Kaunas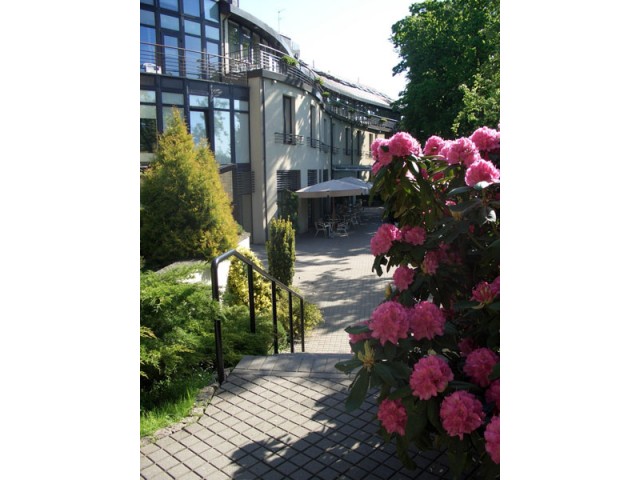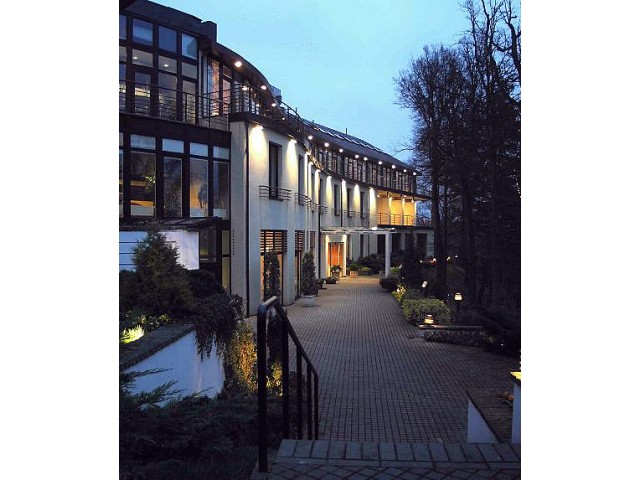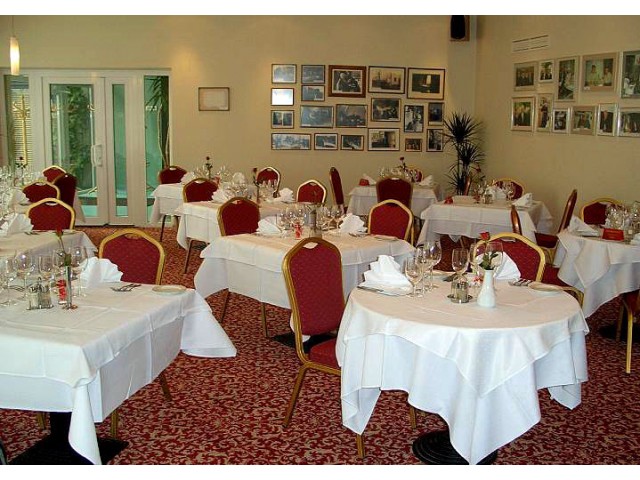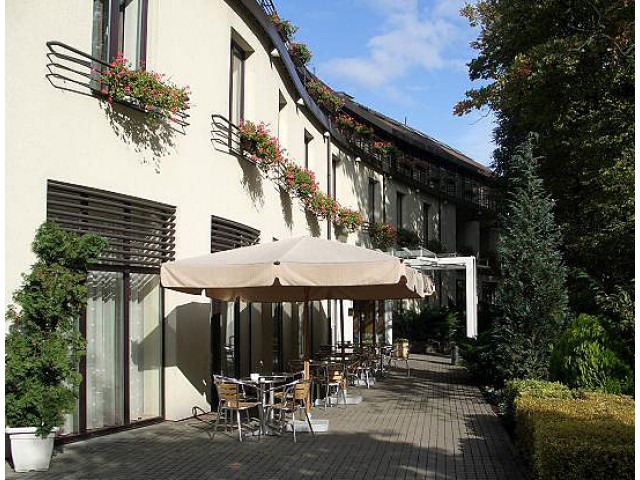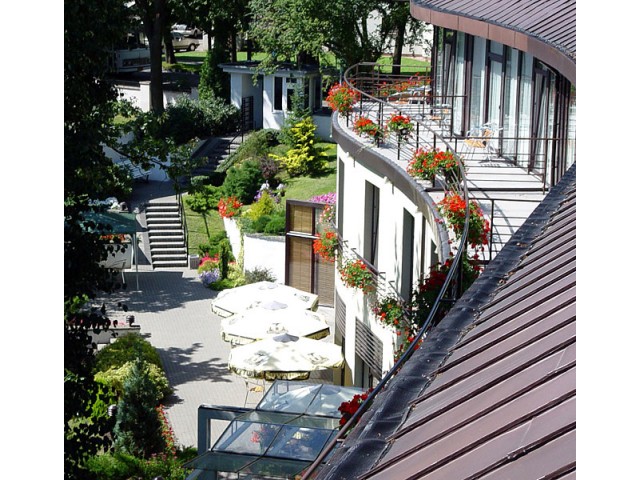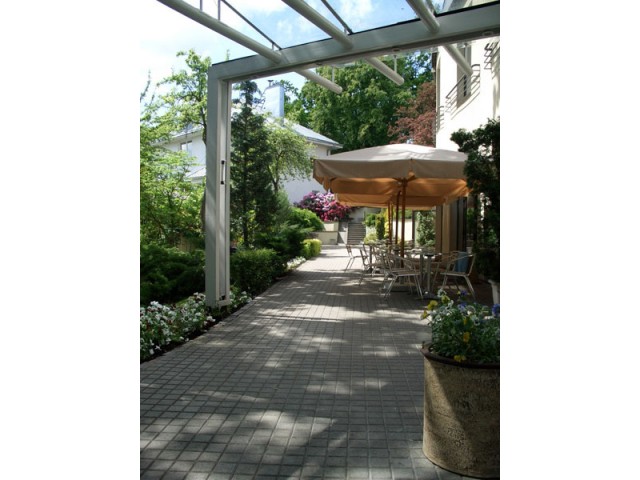 About Perkuno namai Hotel:
Surrounded by centennial oaks, a 4-star hotel and restaurant "Perkuno Namai" has been run by our family for over 15 years since 1994.
I grew up in Žaliakalnis – on the Green Hill – and the site, now seating the hotel, belonged to our grand and great-grandparents. Our family house adjoining the hotel was designed in 1930 by a family friend architect, a promoter of functionalism in Lithuania, V. Lansbergis-Žemkalnis.
We are very proud of the hotel's well-groomed landscape: a rhododendron grove and an oak-tree hillock invigorate our guests, family members and staff all year round.
Our 50-seat restaurant offers creative and stylish cuisine and a quiet atmosphere. My sister Ingrida and I please our guests by welcoming them personally and treating to a cup of coffee. We receive our guests as family members and some repeated visitors have become our family friends.
One of our guests said: "I like this place because once you pass the gate you enter a totally different world under the oak-trees with birds singing above romantic benches surrounded by flowers. It is an Italian court-yard in the middle of Kaunas, a welcoming retreat from the world's turmoil."
We had a pleasure hosting and receiving appreciation from H. Exc. Valdas Adamkus, Lithuanian basketball legend Arvydas Sabonis, pop singers Sofia Rotaru, Nikolaj Baskov, Laima Vaikule, English rock band SLADE. We call our guest book 'Our guests' appreciation diary'.
Our rooms and facilities
We have 29 highly appointed rooms: 2 deluxe rooms, 6 junior suites, 11 single rooms, and 10 double rooms (with twin beds or a double-bed).
Like at home and suitable for work
All rooms meet European first-class hotel standards. Here you will find everything you need for rest and work: TV sets, direct-dial telephones, mini bars, safe deposit boxes, free wireless internet connection, hair dryers and comfortable en suite bathrooms with heated anti-slip floor. Should you prefer a comfy king size bed, just order it in advance and you will find it ready upon arrival.
To keep all your worries away we are ready to provide:
24-hour reception service
Laundry, ironing and dry-cleaning services
Porter-service
Room-service
Room key cards
A guarded parking lot
Baggage storage
Transfers to and from Kaunas and Vilnius airports
Car-hire
Taxi calls
Wake-up calls
Currency exchange
Safe deposit boxes
Fax and copy machine
Free wireless internet connection in entire hotel
Postal services
Authentic souvenirs
Additional beds, children beds
Hygiene items (toothbrushes, shaving items), sewing kits, bathrobes, slippers, extra towels, pillows or blankets to be ordered at the reception.
Extra heaters, an iron and ironing board, extension leads and voltage converters to be ordered at the reception.
Payment in cash or by Eurocard, MasterCard, Visa, American Express, Maestro credit cards.
Use our offers:
Have an ample and tasty breakfast from 7:00 till 10:30 a.m.
Enjoy a quite retreat under the oaks and a tasty meal (our chefs create and offer new dishes every day).
Have your business meetings, conferences and trainings in our hotel.
Let us arrange a party, a gathering, a banquet or a buffet event for you.
We are ready to provide catering services in any surroundings of your choice.
Restaurant
Cosy atmosphere of the restaurant overlooking a blooming valley with centennial oak-trees provides a perfect location for gala parties, business dinners, guest receptions or merry gatherings of friends and colleagues. Our dining facilities include a 50-seat restaurant hall and a 20-seat library hall.
The menu in the hotel restaurant is really fanciful. It is renewed twice a year to give you a chance to taste new gourmet dishes during your next visit. All dishes are exceptional: they are prepared and served as pieces of art. The restaurant owner Ingrida Gustienė creates new recipes and tastes the dishes with professional knowledge and deep appreciation for the sensuousness of good food - the quality, the colour, aroma, texture and harmony.
Every morning guests are welcome to a traditional English breakfast. For lunch and dinner guests may choose international and Lithuanian cuisine dishes a la carte.
Very busy people, who need a short break from their routine errands, will enjoy special offers of the restaurant's chef (table d'hôte) at a very attractive price every weekday and at weekends!
The most popular dishes among our guests in 2009: home cognac-soused salmon served with three lily marmalade, pepper steak a la Perkūno Namai, French egg and cream custard Creme brulee.
Our service philosophy is based on sincere personal attention and elating the customer. We want every guest to feel at home, offering familiarity within the limits and always friendly companionship. Some guests have their favourite waiters and ask to be attended by them.
Friday clubs in the restaurant featuring meetings with interesting people and celebrities, wine and food tasting, theme nights, gala events and banquet catering have captured the hearts of many guests and our regular clients.
What makes our restaurant attractive?
Arranging and serving banquets and buffet style parties in Perkūno Namai Restaurant (up to 70 guests) or another setting of your choice;
Culinary and pastry dishes prepared to order and delivered to your home;
Arranging and serving theme events;
Special menu and restaurant setting for every holiday.
Reviews
Write a review
Your Name:
Your Review:
Note: HTML is not translated!
Rating:
Bad
Good
Enter the code in the box below: